Ik heb een aantal specifieke wensen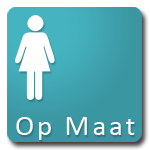 Het komt natuurlijk ook voor dat jouw wensen niet in ons start of plus pakket passen.
Denk bijvoorbeeld aan een web-shop die compleet is aangepast aan jouw wensen. (dus geen standaard webshop zoals de meeste), of het ontwerpen van een logo en huisstijl.
Een marketing plan of media training?
Ook dat is geen probleem bij Vrouwsel.
Door onze jarenlange ervaring kunnen wij veel invullen, maar wij hebben ook een groot netwerk met specialisten die wij inzetten bij specifieke wensen.
In elk geval wordt voor jouw website speciaal script geschreven waardoor we alles "op maat" kunnen leveren.
Dat alle opties uit ons plus-pakket ook beschikbaar zijn spreekt voor zich.
Omdat de mogelijkheden in dit pakket niet begrenst zijn, is het weinig zinvol om hier verder over uit te weiden.
Heb jij ook speciale wensen?
Neem dan nu contact met ons op.
Voorbeeld:
M-plooi